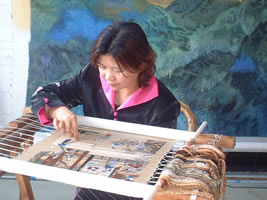 Lu Fuying, a native of Suzhou, Jiangsu, is a senior industrial artist of researcher level and a great master of crafts and arts in Jiangsu Province. In September 2006, she entered the Academy of Arts and Design, Tsinghua University, for the research of subject ¡°Fiber and Su Embroidery¡± as a domestic visiting scholar. She currently hold the posts of Deputy to the 14th NPC of Suzhou Municipality, Member of China National Arts and Crafts Society, Member of Arts and Crafts Association of Jiangsu Province, Director of Jiangsu Association of Women Enterprisers, Notable of Arts and Crafts in Jiangsu Province, Vice-chairman of Zhenhu Embroidery Association, and General Manager of Lu Fuying Su Embroidery Art Museum of Suzhou New& High-tech Development District.

Lu Fuying has been long engaged in the creation of embroidery art, explored the different artistic effects shown by the subtle changes in line, color and luster, and formed her own and particular artistic concept. Her embroideries collect diversified esthetical elements. Her works have won the state-level and provincial-level awards of competitions of the industrial art industry for many tines, among which, Mona Lisa and Singer Elvis Presley are exhibited in Boston National Museum of Arts, USA; The Thick Awakening of Spring in March of the South is selected and used for the decoration of Jiangsu Office of the Great Hall of the People; Family Portrait of King of Japan is collected by the royalty of Japan as the national treasure; Hukou Waterfall is collected in the East Sea Fleet, ¡°Taizhou¡± Ship; Red Plum Blossom vying for beauty is collected in Hong Kong ICAC; Spring Breaks is collected by Renmin University of China; The Guest-Greeting Pine is elected and used by PetroChina CO.. She has ever embroidered portraits for many famous persons in China and abroad, and been conferred awards on the works, such as Deng Xiaoping, King Fahd of Saudi Arabia, Mahathir-President of Malaysia, Lee Kuan Yew-First Prime Minister of the Republic of Singapore, Lee Hsien Loong, King Rama 5 of Thailand, Pakistani Defense Minister, Chen Chung Kuang-president of Taiwan TV Station, Mr. and Mrs. President of India, etc.

Lu Fuying founded Lu Fuying Su Embroidery Production Center in 1998 and Lu Fuying Su Embroidery Art Maseum in 2005, the latter of which, in 2006, was recommended as ¡°Unit with Trustworthy Quality& Credibility for Consumers (Users)¡± by China Quality and Credibility Promotion Association, and synchronously was conferred the title of ¡°AAA-grade Member for Quality Credibility¡±, furthermore was listed as one of ¡°Top Ten ¡®Double Rich¡¯ Model Base of Suzhou City¡± conferred by Suzhou Women¡¯s Federation. At the same time, the enterprise has been titled as the Comprehensive Practice Base of Zhenhu Central Elementary School and the Comprehensive Practice Base of Zhenhu Middle School; While Lu Fuying herself has been awarded the title of national Advanced Capable Woman of ¡°Dual Campaigns¡± by the All-China Women¡¯s Federation; and has been honored with the titles of ¡°march 8¡± Pacesetter of Jiangsu Province, ¡°March 8¡± Pacesetter Model, Best Woman of Embroidery Art, Notable of Arts and Crafts, Model Worker of Jiangsu Province, as well as one of the 1st lot of ¡°Suzhou Folk Artists¡± and ¡°Top 10 Outstanding Women¡± in Suzhou City; furthermore, she also won the title of the Representative Inheritor of Provincial and Municipal Level Intangible Cultural Heritage (Su Embroidery).

Lu Fuying has been to Japan, Germany and other countries for over ten tines for the International Art Expo, where she gave on-site embroidery performances, making the bright pearl of Su embroidery art give out dazzling and extraordinary splendor on the worldwide stage of arts.At the same time, Lu Fuying has been honored as a folk emissary for bridging the world¡¯s friendship. She has not only achieved remarkable success in inheriting the art of Su embroidery, but also taken an active role in carrying forward, innovating and developing the art of Su embroidery. When attending the Suzhou Municipal People¡¯s congress, Lu Fuying brought forward the proposal of ¡°protecting the intangible cultural heritages and traditional arts and crafts such as embroidery, and promoting the national culture¡± which received the reply from relevant municipal authorities. It was approved that, in the further and deeper planning of Suzhou New& High-tech Development District Development Plan, from the angle of protecting traditional handicrafts, the government will reserve and utilize the embroidery street of Zhenhu, leaving enough space for the development of embroidery industry. During the activity of ¡°French Women Embroiderers in Suzhou¡±, which was based on the ¡°China-France Embroidery Art Cooperation and Interchange Project¡± supported by Suzhou Bureau of Foreign Experts Affairs, China International HR Market Suzhou Market and Lyon-Rhone Government France, Lu Fuying carried out three-month intercommunication with three French women embroiderers and provided them with guidance of embroidery skills. Several party and state leaders have visited Lu Fuying Su Embroidery Production Center and Lu Fuying Su Embroidery Art Museum, provided her with full recognition and praise, and given their personal handwritings for encouragement. More than thirty Chinese and foreign news media, including CCTV, Ikeda TV Japan, Mannheim TV Germany, People¡¯s Daily Overseas Edition, etc., have offered coverage thereof in succession.